|
Visit Ludlow
|
Your Council
|
Ludlow Town Council calendar of events
Our latest events have been published on Ludlow Town Council's calendar of events.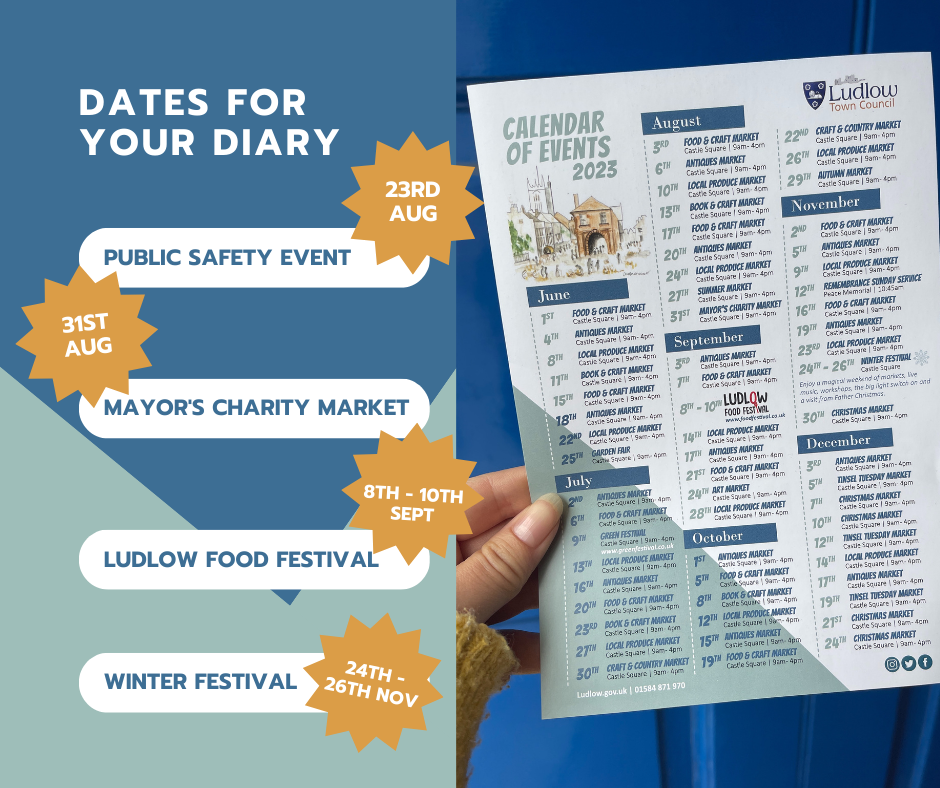 We've highlighted a few dates for your diary.

Public Safety Event
Come along to our FREE Public Safety Event at the Linney in Ludlow on Wednesday 23rd, 12 noon. We're working in conjunction with Shropshire Fire and Rescue, West Mercia Police and the Environment Agency. Come along to learn about the importance of river safety, flooding and general public safety. A free event for the whole family!

Mayor's Charity Market
Our annual charity market is returning to Ludlow market on Thursday 31st August. Local traders and charities will be on the market raising money for important causes. Proceeds will be going to The Mayor's Charity - South Shropshire Youth Forum. Join us on Thursday 31st, 9am - 4pm.


Ludlow Food Festival
Come to Ludlow to enjoy the original festival for food and drink lovers on the 8th, 9th and 10th of September. Soak up the atmosphere and the delicious food and drink at Ludlow Castle with local producers, talks and demos, live fire stage, trails and kids activities. Book tickets - ludlowfoodfestival.co.uk


Winter Festival
Our dates for the Winter Festival have been released and we're excited for a weekend of enchantment from the 24th - 26th of November. Enjoy a magical weekend of markets, live music, workshops, local events and a visit from Father Christmas. Keep an eye on our socials to see what Ludlow has in store.
You can pick up your copy of the Calendar of Events from the Ludlow Town Council office, Ludlow Castle, Ludlow Information Centre and Ludlow Library. If you're a local business and want a few copies, please email the Marketing and Communications officer - esther.gittoes@ludlow.gov.uk.